The Land Of Stories 3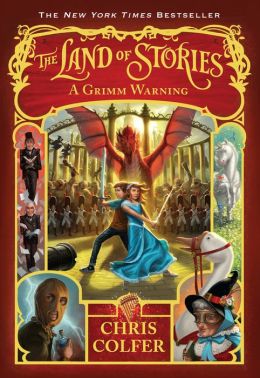 Author- Chris Colfer
Genre-fantasy
Short summary- Alex and Conner Bailey reunite in another amazing tale, by Chris Colfer. When the French Empire, lead by a cruel soulless general named Marquis,  discovers the Land Of Stories, they want to conquer the Beautiful world.  Will this lead to the demolish of the Land Of Stories? Or will Alex and Conner prove themselves worthy again, in the biggest challenge they have ever faced?
ADDITIONAL INFORMATION-
This book was meant to entertain the reader, and it worked for me.
This book is hilarious!!!!!!
Even if I tried to pick my favorite Quote and character we would be here all day!
Chris Colfer is a NEW YORK  TIMES #1 best selling author and a GOLDEN GLOBE winning  author. He was honored as TIME MAGAZINE'S top one hundred most influential people.
RECOMMENDATION-
I would definitely recommend this book, because it is one of the most exciting books I have EVER read. This is an suspenseful, adventure novel, full of the most surprising twists and turns, you may ever read. Really good book, by a really creative author, both of those make the one of the best books ever written…
The Land Of Stories 3!!!!!!!!!!!!!!!!!!!!!!!!!!!!!!!!!!!!!!!!!!!!!
CALL NO.- F Col
REVIEWER-G.W. ( MR. DOLAN)