13 Gifts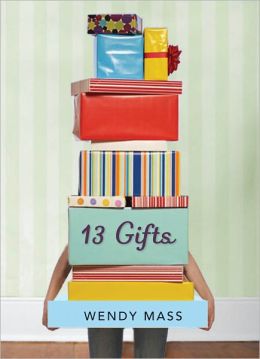 Wendy Mass
Realistic  Fiction
Summary: I Really like this book because when you read this book you will be feel very into the book and I think this book is very nice and it is very entertaining. I really like this book because I read the summary and I enjoyed it. It's about Tara's parents send Tara to a summer trip to Madagascar for the summer.She most go stay with her aunt and uncle. But, what she really hates is that she also has to stay with her  cousin that she dislikes because sometimes she acts like a brat and thats' what she hates about her cousin.
This story is basically in the summer at  Tara's uncle and aunt's house.
But Tara is forced to stay over with her uncle,aunt, and cousin while her parents are away. I personally give this book 4 stars because it's not that funny though you some times can't take your eyes off the book because you are really into the book and how the story was told was fantastic.
Call number : F MASS
I recommend this book to the the people that have read Finally and 11 Birthdays because those books are from the same author as this one and the genre of Finally and 11  birthdays is like the genre of 13 gifts and even if you haven't read 11 birthdays and Finally but you interested to these types of books then read 13 gifts.
J.B Mr. Chapuis